Community Care Peterborough's 35th Annual "Grandparent of the Year," celebrates children's relationship with a Grandparent, Elder, or a special older person in their lives. They are now welcoming nominations from students in grade 2 to 6 in either English or French until May 9th.
Children in these grades are encouraged to submit a story and a hand-drawn picture to demonstrate why their Grandparent, Elder or special older person should be Grandparent of the Year.
"Would your family like a chance to have photos taken by the talented Heather Doughty Photography? New this year, our winners and honourable mentions at our Grandparent of the Year contest will have their picture taken by Heather at an awards ceremony on June 6th at the Peterborough Public Library," said Alicia Vandine – Donor Relations and Communications at Community Care Peterborough. "Help us spread the word about this amazing opportunity to have a family photo! Some area teachers are doing this as a class project, but if your child's teacher isn't, its open to children in grades 2 to 6, and we invite them to nominate their Grandparent, Elder, or special older person to win this honour, we have eight student to name across the primary (grades 2-3) and junior (grades 4-6) categories in English and French. We also will have some prizes for the Grandparents too."
8 Awards Will Be Presented to Children:
Certificates for all participants
One winner for primary level, grade 2 and 3, in each English and French categories
One winner for junior level, grades 4, 5, and 6, in each English and French categories
Honourable Mentions selected in each category
8 Awards Will Be presented to the nominated Grandparents.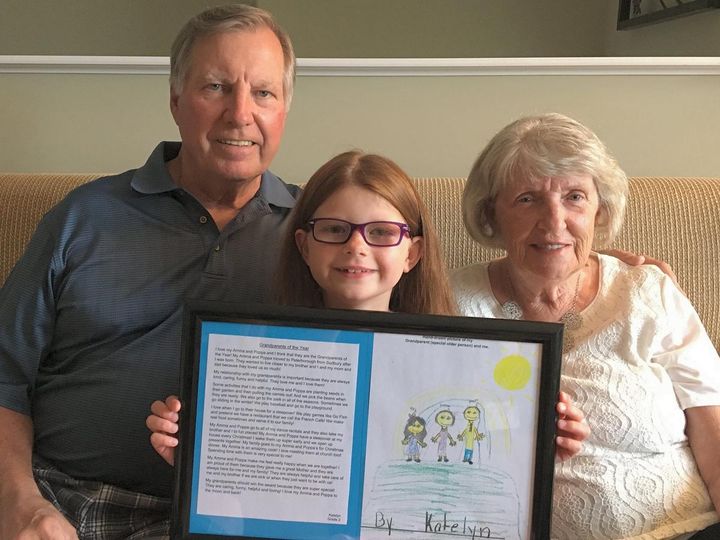 In photo: Katelyn (a grade 2 student in 2020) nominated her grandparents Donna and Harold for Grandparent of the Year in 2020.
Parents and /or guardians can submit their children's entries (story and hand – drawn picture) online by visiting www.commcareptbo.org/grandparentoftheyear or use a downloadable entry form there (in both English or French) and mail/drop off them at Community Care Peterborough, 185 Hunter St E, Peterborough, ON, K9H 0H1, Attention: Pamela
For more information about Grandparent of the Year entries contact Pamela at (705)742-7067, ext. 221.