Maple Ridge Retirement located at the Peterborough Housing Corporation's Hunt Terraces property is Community Care Peterborough (CCP)'s hot Meals on Wheels provider.
CCP's Meals on Wheels program provides nutritious and affordable meals to seniors living alone and to adults with disabilities who are unable to shop for groceries or cook for themselves. They also support clients that are being discharged from an area hospital with limited or no help available during their recovery at home.
"It was a natural fit for our Meals on Wheels program," said Danielle Belair – Executive Director – CCP. "The wonderful new kitchen facility at the Hunt Terraces property that is staffed by Maple Ridge Retirement's professional chef and his team, are preparing meals to their residents in this building, so we are able to share resources to help our clients too."
The six-story building at 555 Bonaccord Street known as Hunt Terraces is an intergenerational living environment that has 85 units comprised of senior supportive, affordable, and market units. Amenities in the building include commercial space, a dining room with meal options, laundry facilities and multi-purpose rooms that can be used by the community.
"Peterborough Housing Corporation (PHC) is delighted to collaborate with Maple Ridge Retirement Services, enhancing the dining experience for our tenants by offering nutritious meals in a warm and inviting atmosphere. Additionally, this partnership enables us to optimize our kitchen facilities, supporting the well-respected Meals on Wheels Program, operated by Community Care Peterborough." – Travis Doak, Director of Operations, PHC.
This new housing model brings individuals together from different social and economic backgrounds to create a building environment that is more representative of the community.
"We are pleased to welcome the Meals on Wheels Program to Hunt Terraces," said Hope Lee, CEO, PHC. "Our vision for the commercial space at this property includes partnerships that serve not only the needs of our tenants but those of the public. This is an amazing addition towards that vision."
Maple Ridge Retirement Services, https://mapleridgeretirement.ca, of the Senior Living Services group of Brown's Fine Food Services, www.browns.ca operates dining and environmental services in Retirement Homes and Social Housing buildings in Ontario. Their sister company Nutra Services www.nutraservices.ca does the same in long term care homes. Brown's operates in these and other markets with over 70 locations serving 300,000 people daily. Brown's Fine Food Services is the largest, independently owned, Food and Facility Management provider in Canada, in their 94th year of business in Canada.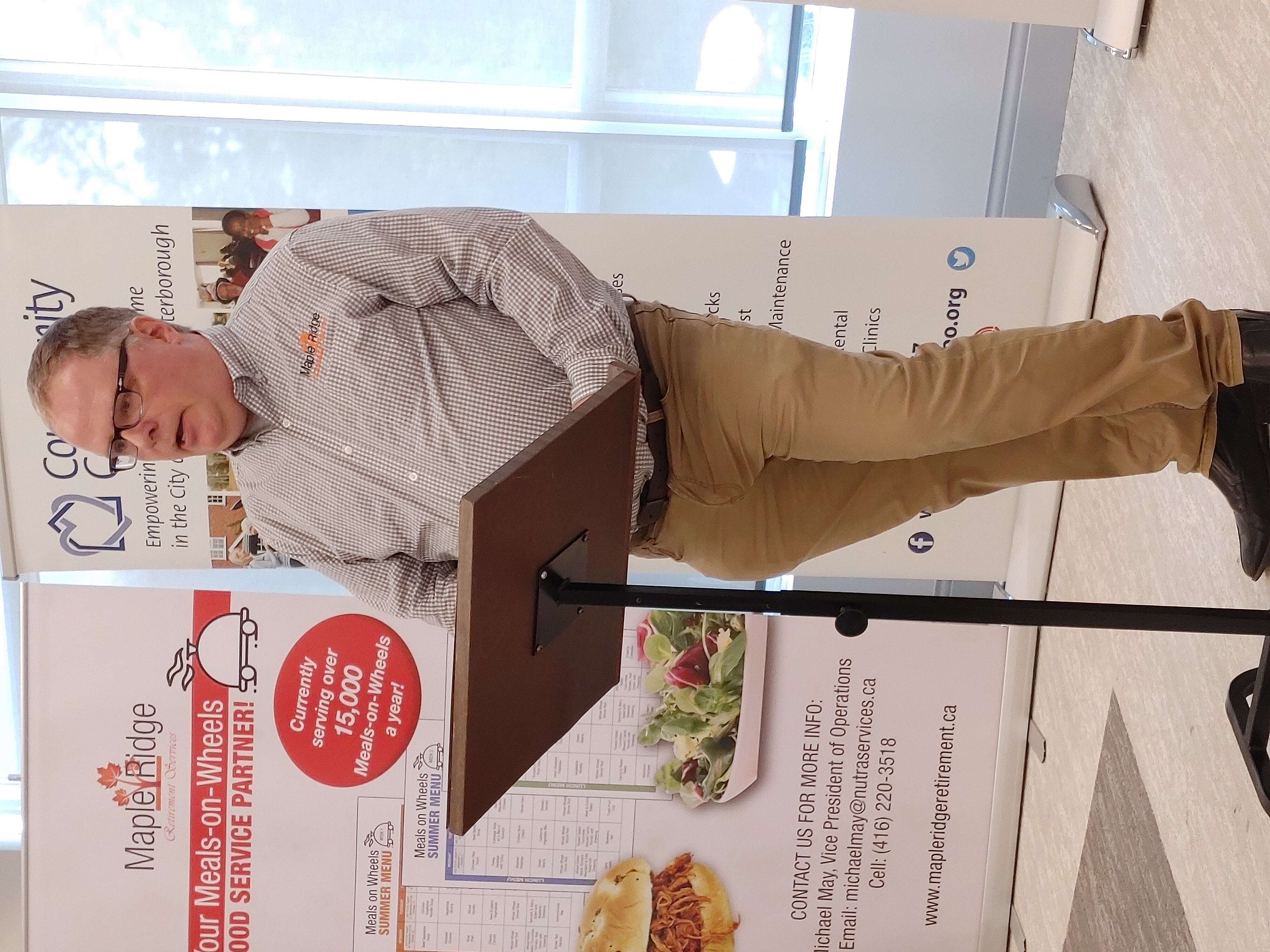 Michael May, Vice President of Operations at Maple Ridge Retirement Services (in above photo), commented, "Our team at Maple Ridge Retirement is very proud to be supporting Peterborough Housing's project at Hunt Terraces. As more and more people move in and others use the facility we are seeing the wide ranging benefits to the community."
Hot Meals on Wheels are delivered Monday to Friday in the City of Peterborough and on Tuesday and Thursdays to Lakefield area clients. Meals are $8.75 per meal and they include soup or salad, entrée, roll and dessert. CCP volunteers pick up their packed, insulated bags containing hot meals and deliver them to their client's homes along a pre-planned route.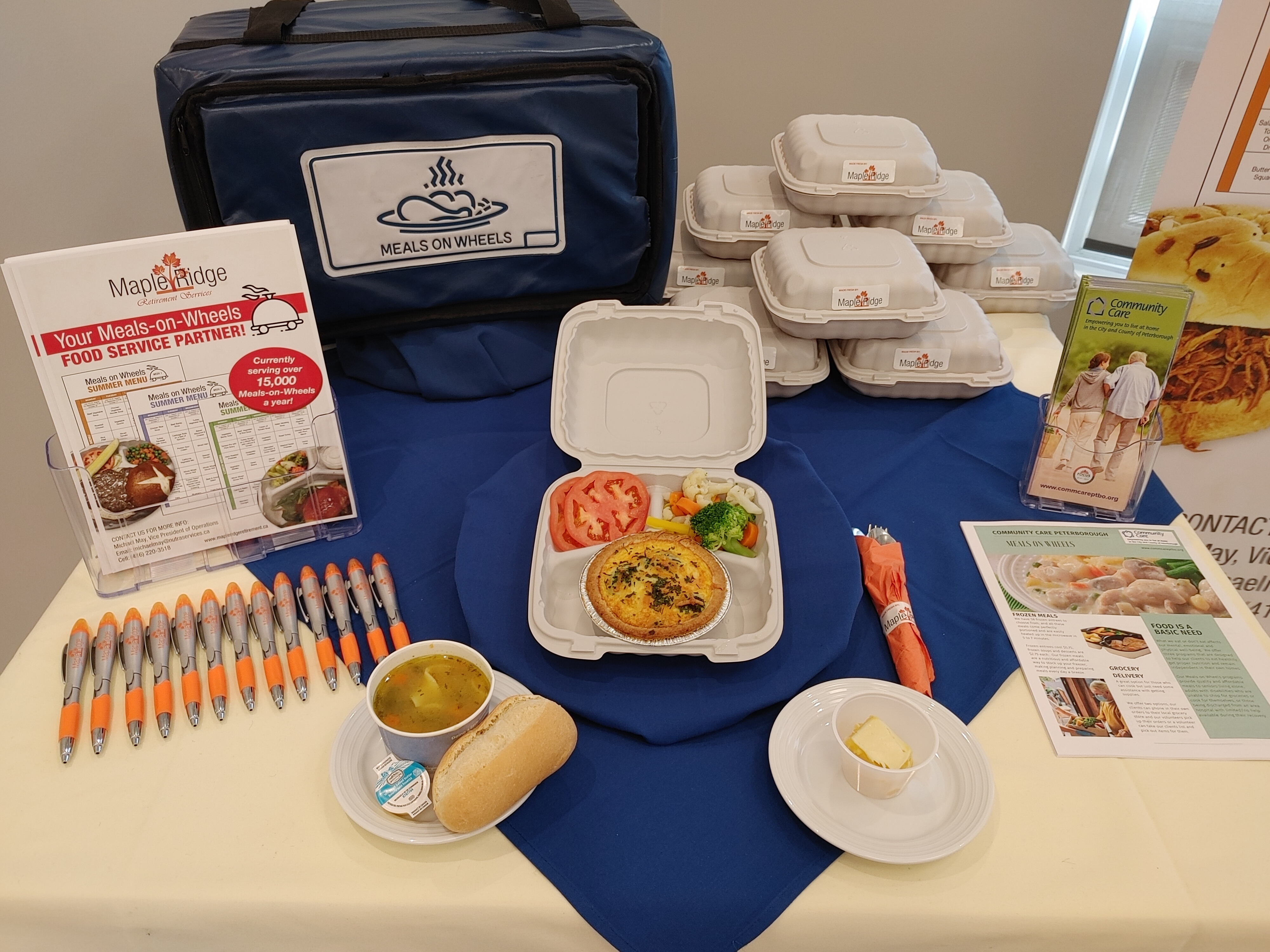 CCP also has nutritious frozen meal and grocery delivery options too. "Our clients have been so pleased with the meals that Maple Ridge Retirement has been providing through our Meals on Wheels program," added Belair. "By sharing resources, and utilizing our amazing team of volunteers, we are also able to keep our hot meals affordable for our clients in the City of Peterborough and in Lakefield."
Would you or someone you know benefit from Meals on Wheels? For more information about the various Meals on Wheels program options call CCP at 705-742-7067 or if they live in the Lakefield are call (705) 652-8355 or visit https://www.commcareptbo.org/service/meals-on-wheels.
Looking for a meaningful volunteer opportunity? Why not consider volunteering for CCP's Meals on Wheels program. CCP is looking for meal and grocery delivery volunteers along with volunteers to help in its freezer room too. Call Melissa at 705-742-7067 or visit https://www.commcareptbo.org/volunteerwithcommunitycare.