Aspley's 2nd Annual Community Casino Night Huge Success
On Saturday, June 17th, Community Care's service office in Apsley and Apsley Lion's Club hosted their second Annual Community Casino Night. The night was filled with laughter, casino games and fabulous prizes and was a huge fundraising success for both organizations.
"We received so many generous donations and sponsorships to help cover all costs of our event. We also had over 20 wonderful prizes that were donated by many local businesses, volunteers and community members" said Katie Bryck – Community Development Coordinator in Apsley. The event attracted over 130 people and the blackjack tables were full all night long."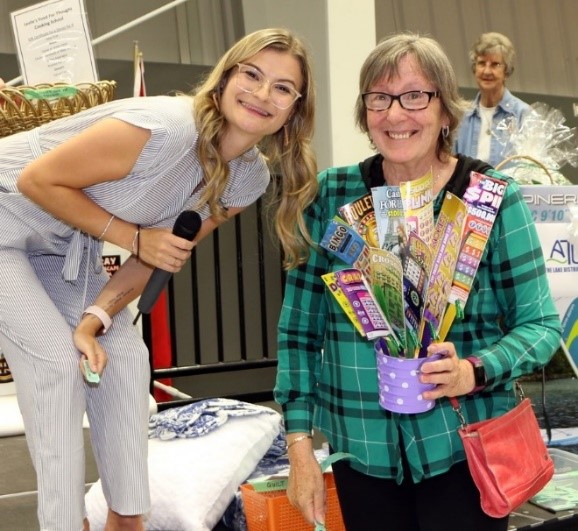 Pictured left: (L-R) Katie Bryck – CCP's Community Development Coordinator in Apsley with Bev Rogers accepting her prize of a lottery basket.
Pictured below: (L-R) The 2nd Annual Community Casino Night at the North Kawartha Community Centre and attendees had so much fun playing the games.
"We would like to thank all of our volunteers, sponsors and donors – this would not have been a success without you," added Bryck. "We are pleased to announce that we raised $8,130.18 for our community". We have also received a very generous donation from an anonymous community member to match ALL money raised at this event. Our grand total is now an astonishing $16,260.36!"
Save the date for next year – Saturday, June 15th, 2024 from 6:00 pm-12 pm.
For more information about this event or about Community Care call Katie Bryck – Community Development Coordinator (705)656-4589 or visit www.commcareptbo.org.
Media Contacts
Katie Bryck Alicia Vandine
Community Development Coordinator in Apsley Donor Relations and Communications Lead
Community Care Peterborough Community Care Peterborough
(705)656-4589 (705)775-3083, ext. 224
kbryck@commcareptbo.org avandine@commcareptbo.org
www.commcareptbo.org www.commcareptbo.org