This year's Meals to Go menu inspired Councillor Don Vassiliadis and Dean Pappas to stop in to the Community Care Peterborough (CCP) office to offer their support for this important fundraiser.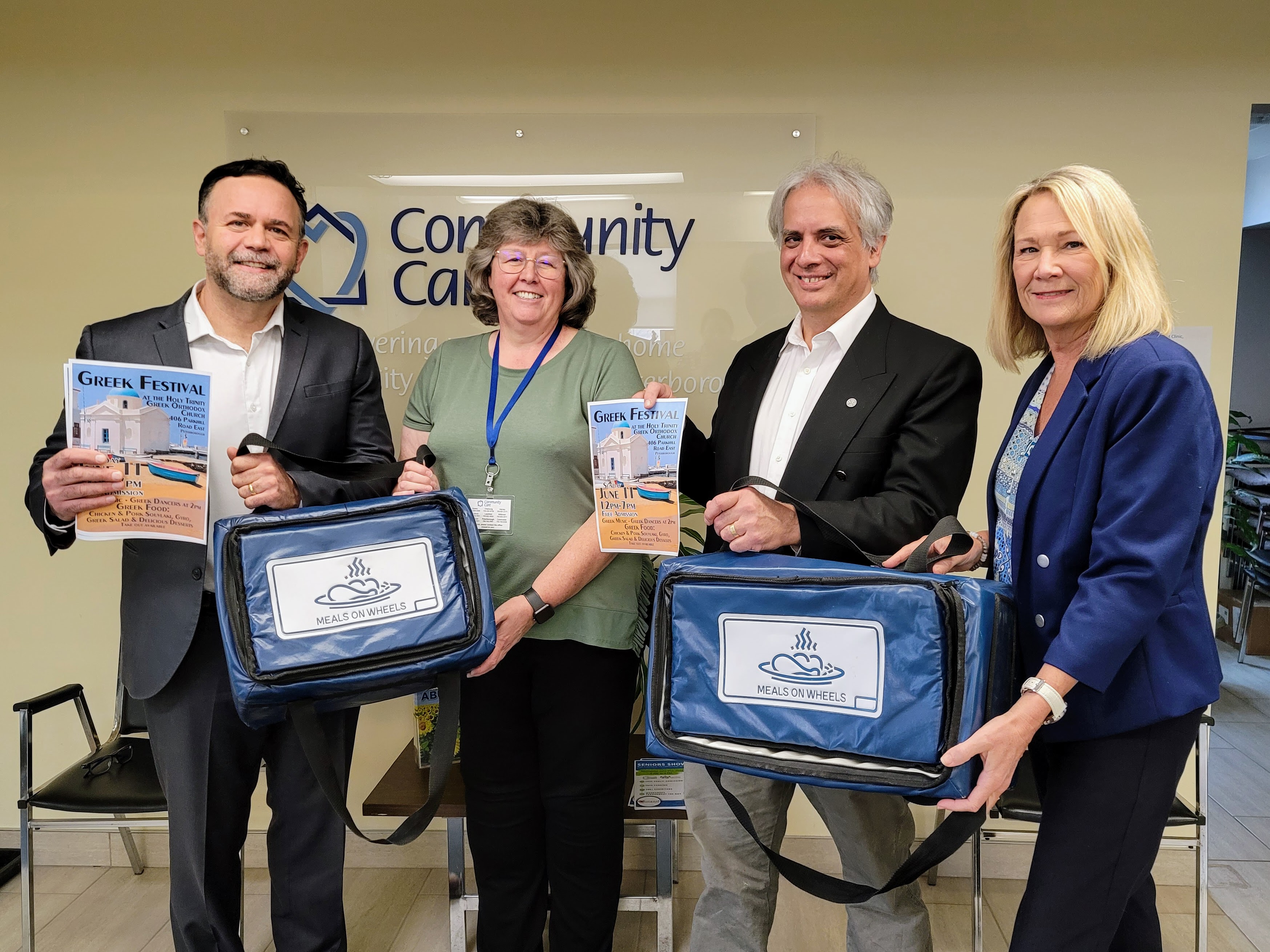 Pictured above: Councillor Don Vassiliadis, Iris Crowder – Client Service Coordinator and Meals to Go fundraiser coordinator for CCP, Dean Pappas and Catherine Pink – Director, Support Services at CCP.
Off the heels of the Tim Hortons Smile Cookie campaign, Community Care Peterborough is sold out of its Meals to Go lunches for the May 17th delivery in Peterborough but is still accepting orders for its May 31st delivery of this year's Greek inspired menu.
$10 per person lunches delivered by Community Care's Meals on Wheels volunteers to local businesses in Peterborough and Lakefield include:
A Greek salad made with romaine lettuce, cucumber, tomato, red onion, black olives, feta cheese and homemade Greek dressing; and
A chicken tzatziki pita, made with diced chicken on a fresh pita with lettuce, cucumber, grape tomatoes, red onion, black olives, feta cheese and creamy tzatziki sauce; and
Fresh fruit cup medley of cantaloupe, blueberries and grapes
There are vegetarian, gluten free and lactose free menu options also available upon request.
Want more Greek food and culture? Did you know that the Greek Festival is returning this year to Peterborough?
On Sunday, June 11th at 12:00 – 7:00 pm at the Holy Trinity Greek Orthodox Church (406 Parkhill Road East in Peterborough), the Greek Festival of music, dancers and food will return after its Covid hiatus.
"Each delivery will receive a copy of the upcoming Greek Festival event poster," said Alicia Vandine – Donor Relations and Communications Lead. "It's a great cross promotion to celebrate this year's Greek inspired Meals to Go menu. We are happy to help spread the word and encourage residents to attend this wonderful community based, cultural event on June 11th too."
Get A Meal, Give A Meal during Meals to Go fundraiser Summary
Orders open to local businesses
Peterborough Delivery Dates: May 17th (Sold Out) and May 31st
Lakefield Delivery Date: May 31st, 2023
Delivered Meals to Go are $10 per meal and donations are appreciated and support Community Care's Meals on Wheels subsidy program
Special thank you also to Crosswind Farm in Keene for donating feta cheese and Outpost Packing Products Ltd. and Sysco for donating transportable food containers to help Community Care Peterborough keep costs down for this fundraiser.
Businesses can order online by visiting https://www.commcareptbo.org/mealstogo.
Downloadable paper order forms (great for circulating in the office) are also available there too or by calling the Peterborough office at (705) 742-7067 or the Lakefield office (705)652-8655.