Wondering How to Spend Your Free Time in the New Year? Why Not Become A Volunteer Driver?
Community Care Peterborough (CCP) is in need of volunteer drivers who are willing to transport its clients to medical appointments or social and recreational activities within the City and County of Peterborough and to destinations in the nearby towns and cities.
"Volunteer driving is a great way to meet people in the community and drives are scheduled around each individual volunteer's availability," said Darci Maude – CCP's Volunteer Development Coordinator. "Our volunteer drivers supplement the driving of friends and family for those without the ability to drive."
Drives could be taking clients to get their out-of-town medical appointments or simply taking them on grocery shopping trips or even getting them to their local hair salon.
The volunteer driver commitment involves picking up a client and dropping them off at their appointment or activity and then later, picking up the same client and returning them to their home. Volunteer drivers receive some reimbursement which is paid to them by the client to help offset the cost of gas and wear and tear on their vehicle.
Volunteer drivers can choose to drive clients in town or they can take them long distances to appointments in Toronto, Oshawa and Kingston.
"Our local service offices throughout the City and the County of Peterborough organize each drive so that volunteers can drive within their local area, "added Maude. "The more drivers that we have, the more clients we can help. We definitely have an increase in the demand for this service."
Meet Bill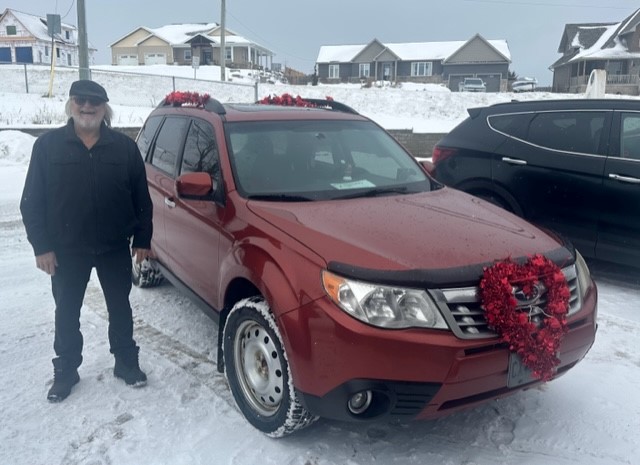 Bill has been a Volunteer Driver with CCP's Chemung office serving Ennismore, Bridgenorth and western Selwyn Township for approximately 4 years. Bill wanted to stay active and become more involved in the community, so when another volunteer suggested the idea of being a driver, he jumped at the chance to join this local team. Bill enjoys meeting new people and says he had made a lot of friends through his volunteer driving.
"Our clients have told us how much they enjoy Bill's company and love when he decorates his car for the various holiday seasons," added Maude.
Can you spare a few hours to help people in your own community?
For more information contact your local Community Care Peterborough office or call (705)742-7067. Information about volunteering is also available on their website located at www.commcareptbo.org/volunteerwithcommunitycare.